The Webcomix Thing was brilliant – the day started with me working out a revolutionary new way to staple involving a spoon (no, really) and only went up from there, mostly thanks to all the wonderful people who came and still seemed to remember who I was. Thank you people with good memories! I even managed to sell out my hastily constructed minicomic 'Beaver and Steve volume 2 1/2 : the Owl of Regret' – sorry to anyone who missed out on the badly printed action! I also got to meet so many talented artists that it would be impossible to list them all here – suffice it to say that I wish the Thing could happen every week, even though it would probably kill me.
Now it's time for Good News/Bad News:
Bad News: The Comic section is not going to appear in the Guardian any more which means that my strip is not going to reach it's conclusion. Combine this with the death of the DFC and it's becoming a bit of a comics apocalypse.
Good News: The DFC creators have teamed together to create a new comics blog at http://supercomicsadventuresquad.blogspot.com/ (not sure where they got that name from) and it promises to be super amazing – make sure you take a look at all the great art already on the site. And to make up for cutting my comic off half way the Guardian has posted all of the remaining episodes online! They are all at really high resolution, and they have done something very strange with the colours, but you can at least see some of what I've been slaving over for the last 6 months or so (I've also added links to the other episodes that have already been posted online so that they are all conveniently in one place):
Episode one
(Episode two : the squad goes to the musuem and works out that the thief is Greenbeard the Pirate)
Episode three
(Episodes 4-6 : having gained access the ship the squad is captured and the captain reveals the real reason that he stole the baboon: to get access to the magic spoon hidden inside! Why? Because he wants to be a celebrity chef of course)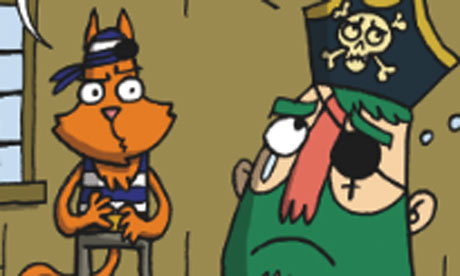 THE END.
I'm still waiting to hear from Random House what they want to do with Super Animal Advneture Squad now that the DFC is finished (they own the rights to the concept), but hopefully this will not be the end of their adventures … we will just have to wait and see!